THE NEW CD RELEASED MARCH 26, 2018
CONVERSATION THE NEW CD RELEASED ON MARCH 26!
AUTOGRAPHED COPIES AVAILABLE IN OUR STORE
SHOP AT AMAZON, iTUNES AND CD BABY
For Immediate Release: Greg Adams and East Bay Soul Conversation CD
It has been nearly a quarter century since the genre chameleon trumpeter and arranger became a leader in his own right with his ground breaking debut Hidden Agenda. With Greg Adams' approach that music is a language… the CONVERSATION continues. You will sense a direct connection with the live feel of the music, the open breath of each note and the collaboration of each player. Read More
Here, at our BLOG – you will be able to follow our progress through out the new East Bay Soul recording and get the behind scene photos, videos, and out takes all in one place. We will be posting archives of the process – as we can ( don't want to give anything away just yet ) and in real time as we go through the recording process
This is just the beginning…Check this space often!  http://eastbaysoul.com/ebs-blog/
It's always fun to share some great times on the road! Thanks to all who came out and support our music!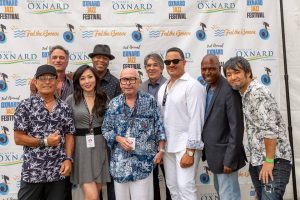 Oxnard Jazz Festival – Sept 8, 2018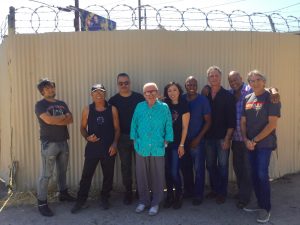 After rehearsal – Sept, 5, 2018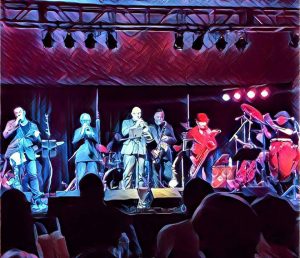 Cool shot on stage in Rancho Mirage, CA Feburary 18, 2017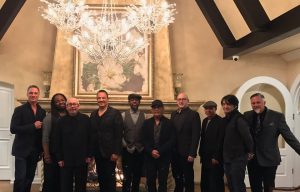 Back stage at Bogies, Westlake Village, CA Feburary 19, 2017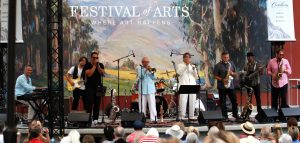 Laguna Beach, CA – Festival of the Arts July 15, 2017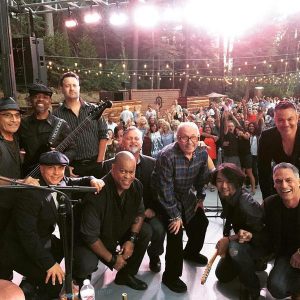 '
Fan Appreciation! Lake Arrowhead, CA August 17, 2017
Bermuda- Capital Jazz Super Cruise, September 26, 2017
About "Friends – by Kirk Fischer
I've followed Greg Adams since his days as a founding member of Tower of Power. I even covered some ToP material in my playing days. When Greg went solo in the mid-90's I bought and enjoyed his stuff. When East Bay Soul hit the street I was totally pumped that Greg had returned to his 10-piece roots. Ultimately we identified 10 songs – 6 original and 4 covers. Greg and I collaborated on rhythm arrangements, Greg composed the string and horn arrangements. In March 2016 we laid down rhythm tracks with Kay-Ta, Herman Matthews, and Dwayne "Smitty" Smith. I recorded most of the keyboards in my studio. That was followed by a string session and ultimately Greg, Lee Thornburg, and Greg Vail laying down those signature horns. Greg Adams producing… how good is that? So what you have here is basically Kirk Fischer playing with East Bay Soul. Let me ask you, my fellow True Funk Soldiers, who wouldn't want to do that? It turned out great. I hope you enjoy it.
We've had great time touring over the spring and summer and we want to thank everyone who came out to support us. It means the world to us and there is nothing we like more than performing live and sharing our music with you!  
On Stage- Festival of The Arts July. 23 2016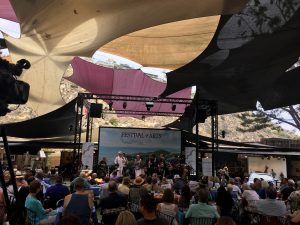 Seal Beach CA,  August 9 2016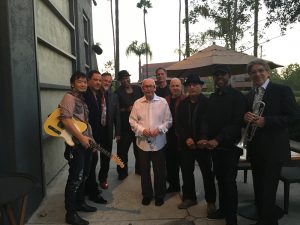 Heading to the stage- Jazz at The Creek SD August 13, 2016

 Radio!
Thank you to all the radio stations that are playing the new single "Didn't Wanna Do It" Remix
from the Thats' Life CD!  Proud to be in the top 20 three weeks in a row on the Billboard Chart!
You can listen and download on iTunes, Amazon and CDBaby!
We had a great time in Seattle at Jazz Alley!
Another great set of shows at Dimitrou's Jazz Alley
On Stage- July, 7, 2016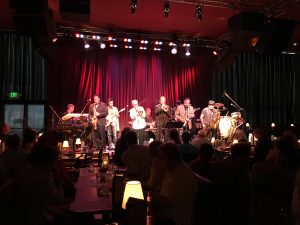 Backstage
 

CoffeTalk JAZZ MAGAZINE

CoffeeTalk JAZZ Magazine Spring 2016 LEGEND Jazz Interview
Greg Adams TRUMPET EXTRAORDINAIRE
For the last three decades, Grammy and Emmy nominated trumpet player Greg Adams has built his career as a musician from a backup horn player to a well-known powerhouse in the industry. Adams has recorded six solo albums, three albums with East Bay Soul, and fourteen albums as one of the founding members of the band, Tower of Power. As an arranger, he helped bring Tower of Power into one of the most recognizable and sought out bands in the country. In addition to his innumerable collaborations in the studio and on stage, Adams' debut recording, "Hidden Agenda" placed number one on the Billboard charts and stayed there for over five weeks. His latest musical pursuit is with the group, East Bay Soul. East Bay Soul brings a much-welcomed group of talent to the music industry  Read the complete interview: CTJM_2016 Vol 1_GregAdams
East Coast Tour Dates Were A Blast!
THANK YOU SCULLER JAZZ CLUB, THE 26TH ANNUAL BERKS JAZZ FEST AND THE BETHESDA BLUES AND JAZZ SUPPER CLUB!
Tom Bowes surprises us and sits in at the Bethesad Blues and Jazz Supper Club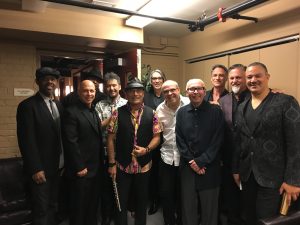 Berks Jazz Fest!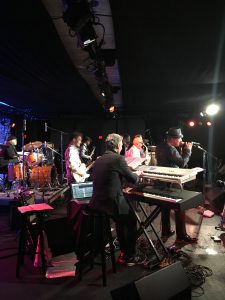 On Stage At Sculers Jazz Club!
Arriving!