CoffeTalk JAZZ MAGAZINE

CoffeeTalk JAZZ Magazine Spring 2016 LEGEND Jazz Interview
Greg Adams TRUMPET EXTRAORDINAIRE
For the last three decades, Grammy and Emmy nominated trumpet player Greg Adams has built his career as a musician from a backup horn player to a well-known powerhouse in the industry. Adams has recorded six solo albums, three albums with East Bay Soul, and fourteen albums as one of the founding members of the band, Tower of Power. As an arranger, he helped bring Tower of Power into one of the most recognizable and sought out bands in the country. In addition to his innumerable collaborations in the studio and on stage, Adams' debut recording, "Hidden Agenda" placed number one on the Billboard charts and stayed there for over five weeks. His latest musical pursuit is with the group, East Bay Soul. East Bay Soul brings a much-welcomed group of talent to the music industry  Read the complete interview: CTJM_2016 Vol 1_GregAdams
New Summer Tour Dates Added!
East Coast Tour Dates Were A Blast!
THANK YOU SCULLER JAZZ CLUB, THE 26TH ANNUAL BERKS JAZZ FEST AND THE BETHESDA BLUES AND JAZZ SUPPER CLUB!
Tom Bowes surprises us and sits in at the Bethesad Blues and Jazz Supper Club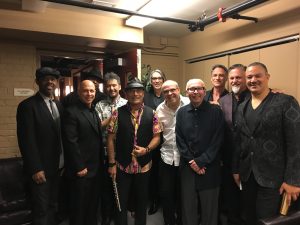 Berks Jazz Fest!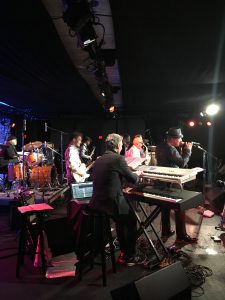 On Stage At Sculers Jazz Club!
Arriving!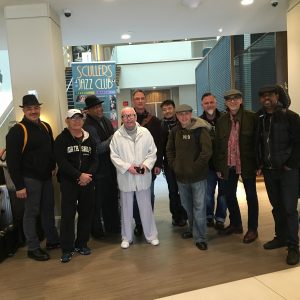 DIDN'T WANNA DO IT (URBAN REMIX) Chill Meets Funk!
Bonus Track –The sixth sequenced song from the full album East Bay Soul That's Life CD. The Urban Remix by Stan Dart and Mastered by Stephen Sherrard takes the listener back to a cinematic urban city scape in much the way you would expect James Bond to follow chase. Listen and Download Now!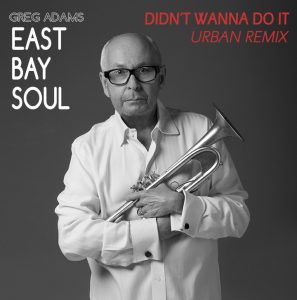 As seen in the FALL 2015 Jazziz Magazine
On DISC Review
With East Bay Soul, in demand trumpeter and arranger Greg Adams continues the legacy of Tower of Power, the muscular funk R&B horn band with whom he waxed some classic recordings. Adams, who's worked alongside marquee stars from Wilson Pickett and B. B. King to Mariah Cary and Madonna, convened EBS in 2009 for the outfit's self-titled debut recording. The album did well enough for the trumpeter to put out a second volumn East Bay Soul 2.0, which he followed up with the new That's Life (Ripa) Read more:
Radio!
The new single "Hush Hush" from East Bay Soul That's Life debuts on Billboard New and Active Chart! A big thank you to WNWV/Cleveland, OH, WVST/Richmond, VA, WFSK/Nashville, TN, KUNV/Las Vegas, NV, KYSJ/Coos Bay, OR, KUAP/Little Rock, AR, WEIB/Springfield, MA, Mood Media Cable Radio/Smooth Jazz Channel, Mood Media Cable Radio/Jazz Vocal Blend Channel, WVAS/Montgomery, AL, WQTQ/Hartford, CT, WHOV/ Norfolk, VA and the Smooth Jazz Network!
The New Single "Hush Hush"from Thats' Life is at Radio Now!
Call your favorite contemporary jazz station and request it!

East Bay Soul That's Life CD – Out Now!
Greg Adams East Bay Soul That's Life
Click Here:  to order an autographed copy and shop at our our store
Available at Amazon, iTunes, CD Baby
Greg Adams & East Bay Soul – That's Life
In just a few short years Greg Adams has built his East Bay Soul creation into the preeminent horn driven collective of its era. and now Adams' has taken the project to a whole new level with the simply incredible 'That's Life'.
Read the review

For Immediate Release Greg Adams & East Bay Soul | March 25, 2015- Los Angeles, CA. In his new musical pursuit trumpeter Greg Adams continues his artistic evolution alongside East Bay Soul with the dynamic THAT'S LIFE – A collection of eleven songs that fuses his love for vintage soul music, pop, with powerful horns and gorgeous orchestration.  Read More
KICKSTARTER THANK YOU'S
You made East  Bay  Soul  THAT'S LIFE  a reality!
We are all really in this together. As promised we have posted our  Thank you page
You made this happen and we can't wait to get the new music out to you!  Thank you ALL so much!!
Check out the tour page for new tour dates!